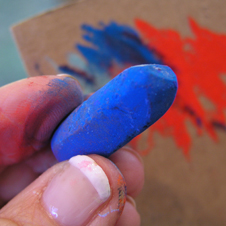 ABOUT THE MEDIUM
Currently my mediums of choice are SOFT PASTEL and OIL PASTEL.
With a degree in painting and drawing, I am excited by the use of oil paint but primarily enjoy the straightforward act of drawing in color…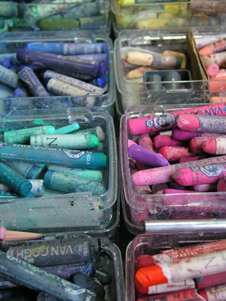 OIL PASTEL
Is there a medium that allows me to do both? The answer is yes, and it comes in the form of waxy, vibrantly colored sticks of OIL PASTEL.
Although it shares the name, oil pastel is not pastel. Unlike the dustiness of pastel, oil pastel is an oily waxy crayon. Originally developed for Picasso in the 1940's, today's artist grade oil pastel is a serious versatile medium.
HOW I USE THE OIL PASTEL MEDIUM
I begin with dark papers, as if pulling the images out of darkness into dramatic theatrical stage lighting. It is an exciting process during which I apply colors in many controlled layers. Veils of color, one lightly over the other, allow the color below to affect the color above, much like the classical glazing process oil painters use to build color.
Conversely, there are times when in heat and sunshine, the sticks of medium become soft, pliable and in that case the application is more aggressive and active, with the final result being somewhat impasto, looking similar to oil paint.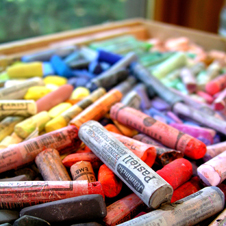 SOFT PASTEL
Using SOFT PASTEL, I relish the sight and feel of the saturated colors coming from the sticks of pure powdery pigment. I often apply the medium on sueded and sanded papers. Sueded paper is a unique surface whose character necessitates that detail be held to a minimum, allowing for lively mark making. No matter which surface, soft pastel allows me to use a drawers touch while working quickly, applying exciting color relationships of the medium.